Pros News
A win for the Captain and I!
---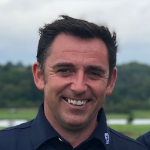 Gareth Jones
PGA Golf Professional Sandiway Golf Club
After a tough start for both Nath and I in recent Capt & Pro matches, we have hopefully turned the tide with a 3&1 win. Playing against the 2021 Allen Trophy winners, Stephen Ford & Rob Wyatt, the Captain and I (mostly the Captain) took control from the very first hole and we were never behind (a rare feeling) and eventually got the match won on the 17th green. Well done Captain!
Now that we are on top form it is not a surprise that the challenges on offer are a little slow! But please contact me here if interested and we can get a tee time booked in.